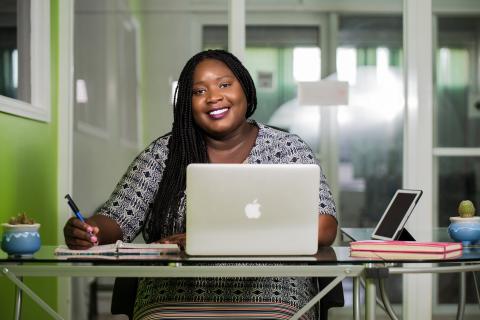 Name
Nichole Crawford-Thompson
Nichole is a visionary trailblazer, seamlessly navigating the intersection of education and entrepreneurship with an unwavering belief in technology's potential to drive innovation and catalyze a brighter future.
With a robust background as an educator, spanning both private and public sectors, Nichole's journey seamlessly evolved into the realm of entrepreneurship, where she has adeptly steered and directed the creation of transformative ventures for the past seven years. Her dedication to fostering positive change has manifested in impactful projects that span education, entrepreneurship, and technology landscapes.
As a Certified Project Manager, Nichole's expertise goes beyond the ordinary. Her foundation in Educational Planning and Policy infuses her projects with a strategic foresight that sets them apart. Her knack for cultivating and nurturing strategic partnerships has led her to collaborate harmoniously with a spectrum of stakeholders, including Non-Governmental Organizations (NGOs), Donor Agencies, and Governmental Organizations, culminating in the successful implementation of diverse and impactful development initiatives.
Nichole's influence extends as a co-founder, Chief Operations Officer, and Director of Projects and Digital Learning at Niritech Digital Services Limited. In this multifaceted role, she orchestrates the harmony of operational excellence and visionary leadership. Nichole's footprint is not just in the present – it's a trail she's blazing towards a future where education, entrepreneurship, and technology converge for the greater good.
Her hard work has resulted in her excelling nationally and internationally. 
Represented Jamaica in Mexico at the Wexchange Forum, which connects high-growth women entrepreneurs in Latin America and the Caribbean with mentors and investors seeking to nurture the growth of their businesses. (2015)

Participant of the Slush Global Impact Accelerator, geared towards helping the next world-changing founders by building their skills through workshops and training, offering networking opportunities with world's most prominent investors, and enabling new opportunities with Finnish and international partners. (2015)

In June 2016, I was one of four Jamaicans selected to represent Jamaica at the Global

Entrepreneurship Summit in Silicon Valley, hosted by President Obama and the United States government, which showcased inspiring entrepreneurs and investors from around the world creating new opportunities for investment, partnership, and collaboration as means to address some of the most intractable global challenges. (2016)
Featured Articles:
A Slush of Opportunities for Makers and Doers
Caribbean Entrepreneurs Make Waves at Slush