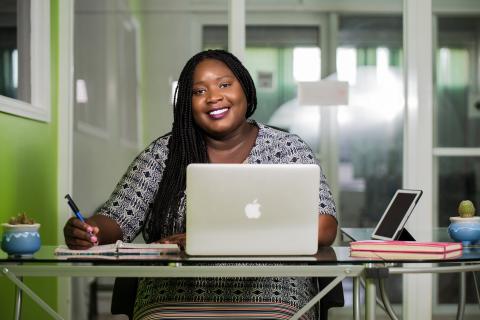 Name
Nichole Crawford-Thompson
Position
Director of Projects & Digital Learning
After working for nine years in the private and public education system as a secondary education teacher and adjunct lecturer at a private university, Nichole transitioned into the world of entrepreneurship where she currently manages IT projects and digitizes learning. Nichole is a Certified Microsoft Educator and experienced Elearning Developer skilled in using technology to create engaging learning experiences. She is also a Certified Project Management Associate and holds a Masters of Education in Educational Planning and Policy, from the University of the West Indies, Mona.
In 2016  she served as a Training Consultant for the World Bank-funded Caribbean Mobile Innovation Project (CMIP), where she worked with a regional team to plan and implement the entrepreneurship training service portfolio across the Caribbean which saw the synchronous delivery of entrepreneurial courses; which later led to the planning and development of three entrepreneurial courses, relevant to the needs of regional entrepreneurs, to be offered as continuous professional development courses throughout the Caribbean in partnership with UWI, Cave Hill.
In 2017, she served as the Project Lead for the Junior Achievement (JA) Jamaica and United States Agency for International Development (USAID) JACE SEED Project which sought to integrate entrepreneurship into the grade nine curriculum and among disconnected youth, ages 13 to 24 outside of the formal school system in Jamaica. Her most notable accomplishment was the successful management of the partnership between JA Jamaica and the Youth Innovation Centres (YIC), through the Youth, Adolescents and Policy Division of the MOEY&I; which has resulted in the delivery of the JACE SEED programme at the YICs island-wide.
Nichole also supports the National Programme Officer for Education for the UNESCO Cluster Office for the Caribbean as a project support consultant, where she helps to develop policies and programmes geared towards Teacher Education, Technical Vocational Education and Training TVET, Boys Education and Gender-Based Violence.
Her hard work has resulted in her excelling nationally and internationally. 
Represented Jamaica in Mexico at the Wexchange Forum, which connects high-growth women entrepreneurs in Latin America and the Caribbean with mentors and investors seeking to nurture the growth of their businesses. (2015)

Participant of the Slush Global Impact Accelerator, geared towards helping the next world-changing founders by building their skills through workshops and training, offering networking opportunities with world's most prominent investors, and enabling new opportunities with Finnish and international partners. (2015)

In June 2016, I was one of four Jamaicans selected to represent Jamaica at the Global

Entrepreneurship Summit in Silicon Valley, hosted by President Obama and the United States government, which showcased inspiring entrepreneurs and investors from around the world creating new opportunities for investment, partnership, and collaboration as means to address some of the most intractable global challenges. (2016)
Featured Articles:
A Slush of Opportunities for Makers and Doers
Caribbean Entrepreneurs Make Waves at Slush